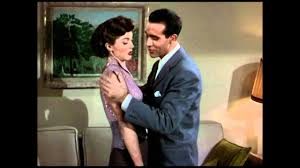 Everywhere you go during the Christmas holiday, "Baby It's Cold Outside" will be one of the songs you hear constantly. This song was originally sang by Esther Williams and Ricardo Montalban in the famous movie "Neptune's Daughter," but is sung by many other famous artists to this day.
"Baby It's Cold Outside" was written by Frank Loesser for his wife, Lynn Garland. They sang this in front of their guest to indicate that it was time to leave. The story Frank was trying to portray was the host convincing his guest to stay due to the cold weather and to have another drink with him. This song was a hit and Frank sold the song to MGM making his wife very upset and feeling betrayed.
Madelyn is a Junior at Rowan University. She is majoring in Elementary Education with a dual of Liberal Studies. She loves listening to music and attending many concerts. Her favorite music to listen to is R&B. One of her favorite concerts she went to would be her first Beyonce concert at The Boardwalk Hall in Atlantic City.